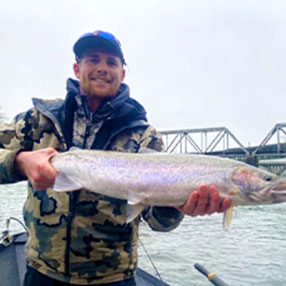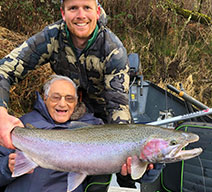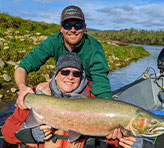 ABOUT US
My name is Zach Hancock and I am the Owner and Operator of Zach Hancock Outfitters, LLC.
Growing up on the banks of the Umpqua River, I discovered my passion for fishing at an early age. When I was 12 years old I caught my first steelhead on a guided fishing trip on the Umpqua River. From that experience, I was hooked on fishing and knew I wanted to bring the thrill of catching fish on the scenic southern Oregon rivers to others. Read more…
"
" Sharing the fun of fishing turns strangers into friends in a few hours"
- Eugenie Clark -
OUR SERVICES
We offer professional guided Salmon and Steelhead fishing trips across the Southern Oregon Rivers. These trips are among the most scenic waterways in Oregon with top rated Salmon and Steelhead runs. Whether you're a beginner or a skilled fisherman, we tailor every trip to your experience level. We are safety conscious and focus on providing excellent customer satisfaction.
The first time I fished with Zach right away I had the feeling I was fishing with an old friend. By the end of the day, I knew I would be fishing with him for years to come. His knowledge of the river systems around Roseburg is top notch, and he is a hunter of fish. If you want to have a great day fishing. Take my advice and book with him well in advance, because his calendar will be filling up fast.
-Jason H.
Reno, NV
GALLERY
See some of our past clients memorable adventures!
"
"I have been fishing with zach for over ten years, he truly cares about his clients experiences and the effort he puts into his trips reflects that. Fishing with my friends and family, or work related trips with clients of my own Zach has always ensured we have a great experience"
- Brian E, Portland Oregon -
OUR PRICES
Select from on of our hunting or fishing packages below. ---
Springfield, OR
[email protected]
---
CALL OR ASK US A QUESTION
CONTACT US
Feel free to call us directly or submit an inquiry below. We'll get back to you as soon as possible!